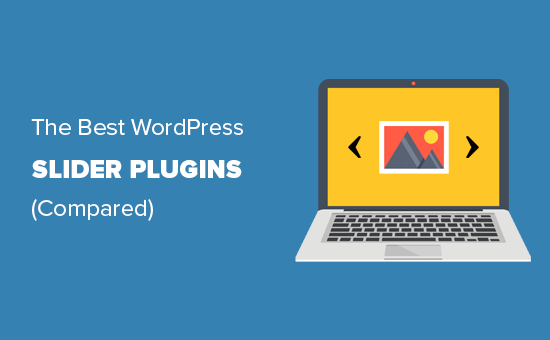 Are you looking to add a slider to your WordPress site There are dozens of WordPress plugins on the market that you can use.We will give you the best WordPress Slider add-on
However, not all slider add-ons are created equal. Most of them load a lot of code, which slows down your website.
In this article, we will compare the best WordPress Slider plugins based on their speed, ease of Use, and overall features. The goal is to find the best WordPress add-on in terms of performance and quality.
The WordPress Slider problem
Most WordPress sliders are slow. If the code is not written correctly, the slider can significantly increase the loading time of your page. If you don't have a good WordPress hosting service, your server may respond slower than usual.
The other problem with WordPress slider is the ease of use. Most of them are puffy and come with a learning curve for beginners.
Last but not least, you want to make sure that your WordPress slider is mobile responsive. Many of them are not.
So how can you go through hundreds of sliders and check all this Well, you don't have to. We have done the research for you and below are our results for the best sliderwordpress.
The contenders for the best WordPress Slider plugin
For the sake of this article, we have selected the highly recommended WordPress plugins. While conducting our research, we noticed that these extensions for the slider were among the most used and recommended.
We decided to take some simple tests and find out how each of them performs. The criteria we are looking for are speed, ease of use, features and compatibility.
Ready, let's get started.
Speed-what is the fastest WordPress Slider plugins
The number 1 problem with the slider is that it can slow down your website. Performance and speed not only affect the user experience, but also have a huge impact on SEO.
That is why the speed of the slider is on top of the comparison. We want to see what is the fastest slider add-on, then we will compare its features to see if the performance impact can be justified.
To find out, we installed every slider extension on the WordPress demo site. We uploaded the same photos to create a slider. We have not changed any other settings and have included a slider on a blank WordPress page.
After that, we used the Pingdom speed tester tool to do the test. Below are the results of our test for each addition.
| اسم الإضافة | وقت تحميل الصفحة | الطلبات | حجم الصفحه |
| --- | --- | --- | --- |
| Soliloquy | 860 مللي ثانية | 22 | 679 كيلو بايت |
| MetaSlider | 863 مللي ثانية | 25 | 229 كيلو بايت |
| Smart Slider 3 | 865 مللي ثانية | 19 | 382 كيلو بايت |
| Slide Anything | 866 مللي ثانية | 18 | 324 كيلو بايت |
| Master Slider | 900 مللي ثانية | 22 | 345 كيلو بايت |
As you can see in the results above, Soliloquy was the fastest loading WordPress slider in our tests. Closely followed by MetaSlider.
If you want a fast, high-performance WordPress site, Soliloquy is the best WordPress slider for you.
Now you might think that all the other sliders also performed well.
Why do we think Soliloquy is the fastest  ?
If you observe the test results, you will see that Soliloquy increased the page load size without affecting the speed.
This is achieved using a neat little trick. Basically, the cover slide is loaded first and then the other slides are loaded asynchronously. In other words, you can load high-quality slider images with minimal impact on performance.
Ease of use-which WordPress Slider offers a better user experience
Creating a slider is not as simple as we would like it to be. There is a lot of technical language used in the user interface of all WordPress slider plugins.
Soliloquy
Soliloquy is the most beginner-friendly WordPress slider plugin on our list. You can simply create a new slider and then drag and drop the images.
It takes care of other things like resizing photos, choosing a theme, navigation style, etc. You can simply press the Publish button to save the slider.
The reason it's so easy to use is because it uses WordPress code and blends in with your native WordPress admin interface. Soliloquy has a simple but intuitive user interface for creating slides using the default WordPress Media Downloader.
Adding a slider to WordPress posts and Pages is also easy. Soliloquy gives you a number of options including shortcodes, the Gutenberg editor block, and a button for the old classic editor .
Meta slider
MetaSlider is another easy-to-use WordPress slider. Creating a new slider is very simple and will automatically take care of all the technical settings for you.
It gives you options to choose different slider texts, slider theme and styles, add captions and SEO titles, and more. Beginners can ignore all these options and can simply enter a slider anywhere on their site using the shortcode, Gutenberg block, widget or template tag.
Smart Slider 3
Smart Slider 3 uses a different user interface that looks different from the rest of the WordPress Management screens. It is fairly easy to use and beginners can find their way around.
However, it has a lot of options that may not be easy to figure out for beginners. The overall user experience is satisfactory and you can easily add a slider to posts and pages using the default block, shortcode and template tag.
Slide Anything allows you to add anything to the slider. You can add text, HTML, images, videos, or anything else you want. It is not as easy to use or intuitive as some other WordPress sliders and many of them also allow you to add other types of content.
You will have to insert all the contents of your slide inside the HTML editor. This makes it a bit difficult to keep the slides the way you want.
Master slider
Master Slider is another slider extension with a non-native user interface that looks different from the rest of the WordPress screens. It is easy to use, but many options are difficult to select.
It starts by selecting the template and automatically imports some demo slides to start with. You can then delete these slides and replace them with your own.
It has beautiful templates and can be easily inserted into WordPress posts, pages and sidebars using the shortcode, Gutenberg block and template tag.
Master Slider works best with WordPress themes that load jQuery automatically at each page load. If your theme does not do this, you will need to change the extension settings and force it to load assets when the page loads.
Features-which WordPress slider offers more options
If all you want to do is create simple photo slideshows, any of the Free WordPress plugins on this list can do the job.
However, Soliloquy and MetaSlider come with a lot of features. They are responsive sliders and look equally beautiful on all devices and screen sizes. Both support video slides, HTML 5 videos, featured content slides, themes, animations and transitions.
Both offer a simple and user-friendly interface and both have additional functions that you can install to add more features.
Soliloquy has a little more features like WooCommerce add-on for product slideshow, social media integration, Instagram add-on, and more.
Pricing
Cost is another crucial factor that may help users choose to add a slider for WordPress.
This is the price of a single site license for these add-ons.
Among the paid plugins, Soliloquy may seem cheaper, but an individual site license does not give you access to all add-ons. You will need a developer license to access all add-ons, which cost 99 dollars.
On the other hand, both MetaSlider and Smart Slider 3 allow you to access all add-ons even with a single site license.
Conclusion – the best addition to the WordPress Slider program
After comparing these plugins, we can say with confidence that the award for the best WordPress plugin goes to:
It is by far the fastest WordPress plugin on the market. It follows all coding best practices, is well documented, is easy to expand for developers, and is also easier to use for users.
Our second option will be SmartSlider 3 . It offers a very good balance of functionality and performance. The user interface is easy to use for beginners as well as for developers.
We hope that this article answered the questions regarding the best WordPress add-on in terms of performance and quality.