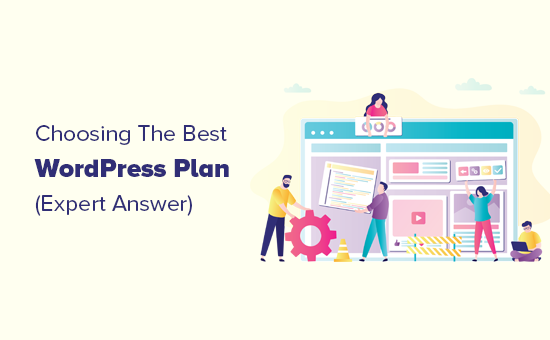 Are you looking into WordPress plan but can't figure out which one to use?
There are numerous companies that offer different WordPress plans, making it difficult to choose the right option for your website.
In this guide, we will help you determine the WordPress plan you should use and how to compare the different plans for your specific requirements.
The Most Common Types of WordPress Plans
WordPress is the most popular website builder in the world. Many different companies offer WordPress hosting plans with various types of services and features.
When we say WordPress, we are referring to the famous WordPress.org software, not just WordPress.com, which is actually one of the more expensive blog hosting services.
To easily explain all the different types of WordPress hosting solutions, we have categorized them into the most common WordPress plans:
Shared Self-Hosted WordPress Plans – Good for small websites and blogs.
Managed WordPress Hosting Plans – Good for larger websites.
Fully Hosted WordPress Plans – Expensive and not recommended.
Now, each of these WordPress plans can be further categorized.
That's because individual WordPress hosting companies try to create their own plans with different features and service levels. Later in this article, we will discuss these options as well.
Let's take a look at the most common WordPress plans available and the types of websites you can create using them (at minimal costs).
Self-Hosted WordPress Plans
Shared self-hosted WordPress plans are the most common hosting solutions for beginners. They are affordable, flexible, and easy to manage, which is why they are also referred to as WordPress starter plans.
The reason behind their low cost is quite simple. These plans allow you to share hosting resources with other users from small businesses/individuals.
Most new websites don't need expensive WordPress plans when starting out. If you're just starting a blog or creating a small business website, shared hosting plans are perfectly suitable for getting started.
You can even use these plans to start an online store.
Drawbacks (

Disadvantages

) of Shared Self-Hosted WordPress Plans
There are two major downsides to using a shared self-hosted WordPress plan.
Firstly, you have limited server resources because these plans are designed for startup websites. These plans keep the cost of building a website lower, allowing you to invest that money in growing your business.
Once you start making money online, you can easily upgrade to a more powerful WordPress plan.
Most shared hosting companies offer multiple levels of upgrades with more resources, so you can also upgrade to VPS hosting plans if needed. Or move to a managed WordPress plan, which we will discuss shortly.
The other downside is site maintenance. You will be responsible for installing WordPress updates, performing backups, and so on.
However, WordPress is incredibly user-friendly and manages to handle the websites of millions of non-technical beginner users with ease using its point-and-click tools.
Which Shared Self-Hosted WordPress Plan is Right for Me?
There are hundreds of companies offering shared WordPress plans. The competition in this industry is fierce, which means the available options can easily overwhelm a beginner user.
That's why we've done the research for you.
We have signed up for all the top WordPress hosting companies and rigorously tested their services and performance.
Check out our comprehensive guide on choosing the best WordPress hosting plan for your website for full details.
If you're just starting out, we recommend using Bluehost. It is one of the largest hosting companies in the world and an officially recommended WordPress hosting provider.
The other major competitors in this category are HostGator and SiteGround.
HostGator is best if you have a small budget. SiteGround costs a little more but offers excellent value for your money with top-notch support and industry-leading technology.
You can start with their lower-priced plans and get all the powerful WordPress features without paying the high prices of fully managed WordPress plans.
This is great value that many beginners don't discover until they overpay for more premium plans.
Now, what happens when your business grows, and your website starts receiving significant traffic, more than 100,000 visitors per month?
Then the next type of WordPress plans is the most suitable to match those requirements.
Managed WordPress Plans
Managed WordPress plans are similar to a concierge service where the hosting provider handles all the technical aspects of running WordPress.
They take care of WordPress security, website speed, update installations, backup retention, and scalability.
These plans include premium support from highly experienced WordPress engineers. It's like having your small team of developers to take care of your website maintenance.
When and who needs a managed WordPress plan?
Most websites and startups don't earn any money in the beginning. They may find it challenging to justify the cost associated with managed WordPress plans.
However, if you started on a shared plan and now your website is generating enough revenue and traffic, upgrading to a managed WordPress plan can be a good idea.
Disadvantages

of choosing a managed WordPress plan
One clear Disadvantages is pricing. Managed WordPress plans are expensive.
The basic plan usually starts around $29 per month. However, when compared to hiring a full-time developer or site administrator, it remains slightly cheaper.
Another downside is the limitations and control. Managed WordPress hosting providers need tighter control over what you can install on the underlying system to ensure its stability.
This means you can only use WordPress on your site, which is not a problem for most users building their websites using WordPress.
It may also restrict some well-known WordPress plugins known to slow down websites.
Which managed WordPress plan is right for me?
The managed WordPress industry has grown significantly in recent years. There are many companies offering similar features in their managed WordPress plans.
We decided to put them to the test and sign up for the top managed WordPress hosting companies.
You can read about them in our guide on choosing the best managed WordPress hosting plan for a side-by-side comparison.
We recommend using WP Engine as the top managed WordPress hosting provider. They are one of the pioneers in the managed WordPress hosting space and provide a robust infrastructure with excellent support options.
Alternatives : Both SiteGround and Liquid Web offer excellent managed WordPress plans.
Fully Hosted WordPress Plans
These hosting plans provide you with a slightly customized version of the WordPress platform, allowing you to create specific types of websites.
You can't use WordPress in the way you usually do on a self-hosted platform. You're limited to the features provided by the platform, which vary depending on the plan you choose.
Who needs a fully hosted WordPress plan?
If you need to quickly create a website and don't have a strong focus on monetizing it, a fully hosted WordPress plan might be a good option for you.
You can also start for free without purchasing a domain name. This is a good choice for personal blogs, family websites, travel photos, and more.
Drawbacks of a fully hosted WordPress plan
You have limited control over your website. and you can only use the available features for your plan and can't extend them yourself.
Also you have fewer options for monetizing your content. Even if you pay for a business account, your options for growing your business will be less flexible compared to a self-hosted WordPress plan.
Which fully hosted WordPress plan is right for me?
WordPress.com is the largest company in this category. They offer a free basic WordPress plan and allow you to create a website using the subdomain wordpress.com.
Paid plans start at $4 per month billed annually. Their business plan is $25 per month, and the e-commerce plan is $45 per month, both paid annually.
You can't install WordPress plugins until you pay for the business plan ($25 per month).
Then  you can't start your online store until you pay $45 per month for the e-commerce plan.
You can do both of these at a lower cost of $2.75 per month with the shared WordPress hosting plans mentioned above while enjoying the full freedoms of WordPress.
How do I choose a WordPress plan for my website?
Choosing the right WordPress plan for your website depends on your business goals and budget.
If you're just starting out, we recommend going with Bluehost. Their self-hosted WordPress plan gives you powerful WordPress hosting features along with a free domain for just $2.75 per month.
You can use it to start a blog, create an online store, build a small business website, and more.
As your website grows, you can upgrade to a managed WordPress hosting account using WP Engine or SiteGround. This allows you to focus on growing your business and easily scale to meet your needs.
If you already have an established business or a large website, we recommend skipping the starting step and directly transitioning to managed WordPress hosting plans for the best experience.
We hope this article helps you determine which WordPress plan you should use. You may also want to check out our guide on easy online business ideas that are already profitable.