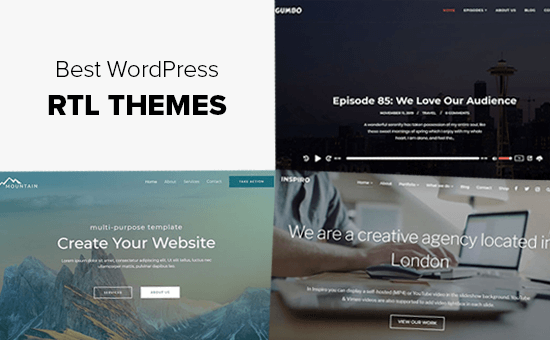 The 21 Best WordPress RTL templates
Are you looking for the best WordPress RTL themes ?
RTL themes (right-to-left) are designed to work perfectly with languages written in the right-to-left direction. These include Hebrew, Arabic, Persian (Persian), Urdu and other languages.
In this article, we will show you some of the best WordPress RTL themes that you can try on your website.
Build a WordPress site in RTL languages
WordPress is an ideal platform for creating a website in any language, including languages written in the RTL direction (from right to left).
There are two types of WordPress sites. These are WordPress.com , which is a hosted solution , and WordPress.org , which is a self-hosted platform.
For your website, you need to use WordPress.org self-hosted. It gives you all the flexibility and features you need to create an RTL website.
To start a WordPress website, you will need a domain name . This is the address of your website on the internet, such as wpbeginner.com . You also need a WordPress hosting account .
We recommend using Bluehost . It is one of the largest web hosting companies and an officially recommended WordPress hosting provider.
Now, let's take a look at some of the best WordPress RTL themes that you can use.
1.Astra
Astra is one of the most popular WordPress themes on the market. It comes with dozens of start-up sites and supports RTL languages to quickly launch your website.
The theme is compatible with WordPress page builder and drag-and-drop plugins such as Elementor for customization. You can also use the live WordPress customization tool to make changes to your website.
Astra is a responsive WordPress theme, so your site will look great on all devices. You can easily include Adsense ads on your site as well.
2. Divi
Divi is a modern multipurpose WordPress theme designed for any type of website. It is fully compatible with RTL languages and allows you to easily create a website in any language from right to left.
It features a page builder plugin, color options, parallax effects, a custom header, and more. Divi is easy to set up without editing any code because it comes with more than 166 entry-level sites, which is suitable for all kinds of companies and non-profit organizations.
You can easily add a custom logo, social media icons and a favorite icon using the divi theme options.
3. OceanWP
OceanWP is a free WordPress theme with premium features and options. It is very flexible and offers a one-click demo content import tool to get started in just a few clicks.
Inside , you'll find RTL language support, ecommerce integration, custom colors, font options, and powerful plugins.
OceanWP has a fast page load time. This is a good thing for SEO (search engine optimization) of your WordPress site, which helps you get a good ranking in Google and other search engines.
4.Hestia Pro
Hestia Pro is a premium WordPress theme for bloggers and businesses. It is a ready-to-use RTL and you can also use it on multilingual websites .
It comes with an accompanying Plugin to add customer testimonials, services and a dedicated homepage section .
Hestia is compatible with Page Builder Plugins, giving you a lot of customization options. It also works well with bbPress if you want to add a forum to your website.
5.Elegance Pro
Elegance Pro is a classic WordPress Business theme. It comes with beautiful printing and color options that will make your content stand out.
The theme is ready for translation and supports RTL languages. It has multiple widget areas and 6 layout options to easily design your multilingual website. You can also add custom CSS using the WordPress direct customization tool.
StudioPress is now part of WP Engine, the most popular Managed WordPress hosting company . You can get this theme and all more than 35 other StudioPress themes when you sign up for WP Engine hosting to build your website.
6. Parallax
It is a stylish one-page WordPress theme suitable for all kinds of business websites. The main page has a full-screen background image and amazing parallax effects.
It includes 11 header styles, a portfolio section, a team members section, animated progress bars and a separate RTL style sheet. It has a custom theme options panel for making changes to your website.
7.Responsive Pro
Responsive Pro is a powerful feature for business websites and blogs. It comes in 12 beautiful color schemes and has 4 navigation menu locations, RTL language support, built-in Google Fonts and more.
Responsive Pro has multiple header and footer formats to fully customize your theme.
8.Benson
It is a beautiful theme for WordPress photography . It features a full-screen home page layout and works with your favorite translation plugin to create an RTL website (from right to left).
In addition, it comes with multiple image layouts, video and slideshow support, custom widgets, and color options. It integrates with Page creation tools such as Visual Composer for quick setup and customization.
9. Zelle
Zelle is a stylish WordPress theme with single-page and multi-page layouts. When It comes with interactive homepage elements, parallax scrolling, and support for RTL languages.
It has unlimited color options, a one-click demo content importer, custom wallpapers, and huge menus. It makes the WooCommerce theme great for starting your online store easily.
You can also add WooCommerce plugins to Zelle to expand your online store.
10.Inspiro
Inspiro is a stylish theme for photography and video shooting in WordPress. It is a ready-made multilingual and supports RTL languages for creating a website in any language.
Theme features include a sliding sidebar, video embeds, a home page slideshow, a responsive gallery, and built-in templates. Integrates with Beaver Builder to design your custom page templates without writing any code.
11.Gumbo
Gumbo is an amazing WordPress podcast theme specially designed for podcasts, audio and video sites. It is ready for RTL and allows you to view your audio files in multiple languages.
It supports third-party audio sources, layouts, videos and a featured slider. Gumbo has dozens of Page Builder settings to add your content and set up a website.
12. Agency
WordPress Business theme is great for companies, agencies and designers with full RTL support. It includes a beautiful portfolio section with each item capable of displaying a single photo or a carousel gallery .
It also comes with sections for testimonials, team members, and notable features. This makes it easy to deliver a great user experience. The app is easy to set up and includes a demo content import tool, a page builder, and a custom theme options page.
13. Writee
Writee is a free blogging theme on WordPress suitable for authors, writers and bloggers. It features a streamlined design with a featured content slider at the top of your homepage.
Write down a simple setup process. All theme options can be easily configured with a live WordPress Customizer in your WordPress admin panel.
14. Neve
Neve is an excellent multipurpose WordPress theme designed for all types of websites, including single-page websites . It comes with more than 80 startup sites and is translation-ready to easily create a multilingual and RTL website.
Neve offers drag-and-drop components to customize the page header and footer. In addition, it has a built-in optimization of speed and performance . This helps in making your website Fast and SEO-friendly.
15. Atmosphere Pro
Atmosphere Pro is a classic multi-purpose WordPress theme. It features a black and white design that makes your content highly readable.
The theme is translation-ready and supports RTL languages seamlessly. It comes with 4 widget areas for homepage, landing pages, custom header and more.
You can use all the standard WordPress extensions with Atmosphere Pro and add short codes to include additional features.
16. Credence
Credibility is a free WordPress theme with a simple layout design. It is well suited for business and professional websites .
It has a full-width template, a custom logo, color options and sidebars. With RTL language support, you can easily create a website in any language from right to left.
17. Fullscreen

Fullscreen is a great WordPress theme suitable for photographers, artists and designers. It comes with full-screen galleries to showcase your work.
It includes tools dedicated to featured posts and recent tweets, a simplified navigation menu, a blog section, and a contact form page. You also get 7 theme skins and multiple design options.
18. Balance
Balance is a flexible WordPress eCommerce template for starting an online store. It has multilingual support and localization to translate your website into any language.
Inside , you will find embedded pages and a one-click demo content importer. You just need to replace the content with your own to create your own website or online store.
The scale uses a responsive design and is retina-ready. This means that it will look great on all mobile devices.
19. Spencer
Spencer is a beautiful WordPress Business theme for startups and entrepreneurs. It comes with a blog page template to quickly start your personal blog.
It has a fixed menu, custom colors, a newsletter subscription form, a call to Action Button and more. The theme integrates with WPML and supports RTL languages out of the box.
20. Gema
Gema can be used as a theme for a stylish WordPress magazine or a personal WordPress Blog Theme . It has a beautiful layout design with distinctive content sections on the main page.
The theme includes a photo gallery, a custom logo, layout options, clear color schemes and typography. It integrates with WordPress translation extensions to allow you to easily create an RTL-supported blog.
21. Academy Pro
Academy Pro is a WordPress tutorial theme specially designed for online courses and educational blogs. It fully supports video embedding to add visual content to your website.
It has a main page made up of widgets, a customizable header and 3 layout options. Academy Pro is translation-ready and can be used to create RTL websites. It is also suitable for use with BuddyPress .
We hope this article helped you find the best WordPress RTL themes for your website.