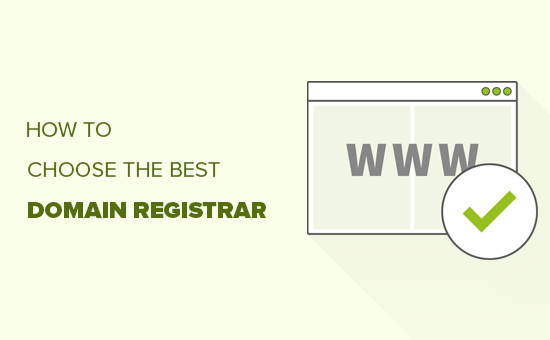 Are you looking for the best domain registrator of 2022 ?
Domain registrators are the companies responsible for registering and managing domain names for all websites around the world.
Choosing the right domain name registrar is very important because there are many ways to cheat. In this article, we will show you how to choose the best domain registrar by comparing their pros and cons.
In our search, the best domain registrar is either Domain.com if you are buying a domain name only, or Bluehost if you are looking to create a website because they will give you a domain name for free .
What is a domain name registrator ?
Domain name registrar is a company that allows you to purchase and register domain names . All domain name registrars are certified by ICANN (Internet Corporation for Assigned Names and numbers), a non-profit organization responsible for managing domain names .
Domain names make the Internet easy to use for everyone. Without domain names, you will have to enter long strings of numbers called IP addresses to visit websites.
Domain names solve this problem by allowing websites to choose addresses using easy-to-remember words , for example dr-wp.com or google.com.
To make domain names widely available, ICANN allows companies to apply for accreditation and become a domain registrar.
These companies then compete with each other to sell domain name licenses that allow you to have better service and tools when buying your domain name.
What domain registrators really do ?
All domain name records are stored in a central database called registry. In order for the domain name to be recognized, it must be added to this database with all the information related to it.
The domain name registrar is granted permission by ICANN to make changes to your domain name information in the database on your behalf. The domain name registrar also provides easy-to-use tools to make those changes using your web browser.
However, let's take a look at how to easily choose the best domain registrars for your website address.
How to choose the right domain registrator ?
Not all domain registrars have a license to sell all domain name extensions . For example, some domain registrars can sell domain names with country-specific extensions only (e.g. .io,. in, or .ly).
Each domain registrar may offer different services besides domain name registration . Some registrars may offer cheap domains as a promotional offer while others may offer free add-ons to attract customers.
When choosing the best domain name registrar, we look at the following four criteria :
1. Pricing and registration period
The first thing you want to check is the domain name prices. For example, some domain registrars may offer low prices in advance for registration in the first year, but their renewal prices can be different and much higher.
You can register a domain name for at least one year. However, some companies may require a higher registration period such as two years minimum. You can register a domain name for up to 10 years at a time.
If you are buying a new web address, we recommend registering your domain name for one year. You can turn on auto-renewal, so that your domain does not expire.
You also need to check for any additional fees for domain transfers, renewals and other fees
2. Domain transfers
Domain names can be transferred from one domain registrar to another. Usually, you won't need to transfer your domain name right away, but if you're not satisfied with your domain registrar, this option should be readily available.
The first thing you should keep in mind is that you cannot transfer a domain name within the first 60 days of registration. ICANN decides on this initial period. After that, it allows you to transfer it to any other registrar you like.
Most domain registrars make it easy to transfer domain names without any additional fees.
However, some may try to make it complicated or charge extra to remove the domain lock.
Be sure to check the domain transfer policy before purchasing a domain name from the Registrator.
3. Domain expiration approach
Domain names are registered for a specific period. You can renew your domain registration before its expiration date. However, if you forget to renew your domain name, it will expire and anyone can register it.
For companies, this means that anyone can take over their own domain name. To make sure this doesn't happen, you can set up automatic renewal of your domain name.
Even if you use the auto-renewal feature, it is recommended to check the expiration policy of domain registrars . Some domain registrars offer a grace period even after expiration. This grace period allows you to renew your expired domain name.
While bad domain registration services will immediately work on the auction of your expired domain to the highest bidder.
We have heard dozens of horror stories about business owners who lost their domain name due to the expiration of their credit card, and the registrar did not have a grace period. This is one of the many reasons why it is so important to choose the right domain name registrar.
4. Additional services
You may also want to review other services offered by your domain registrar. Although you may not need these services at the moment, it's good to know that they have these services.
These additional services may include domain privacy, domain hosting, extended expiration protection, and more. Some domain registrars may sell WordPress hosting, Email Hosting Service, website builders, email marketing services, and more.
The 3 most important things you should pay attention to when choosing a domain name registrator
Due to the competition in domain registration, you will come across companies that offer some very attractive offers. Although these offers may seem good, there may be some downsides that you may not notice right away.
Here are some things you should pay attention to when choosing a domain name registrar.
1. Additional pricing
Some domain name registrars can pre-check additional services automatically when purchasing a domain name. If you do not uncheck these options, this will significantly increase your bill. Usually a .com domain name should cost you no more than 14.99 dollars a year .
You should pay attention to the checkout page and uncheck any additional registration services or sales that you do not need such as WHOIS Guard. Moreover, it is always advisable to double-check the total amount charged to you in your credit card statements.
2. Bad user experience
Most domain registrars try to make their website easy to use, so they can keep you as a customer. However, some domain registrars do exactly the opposite.
This will make it difficult for you to change the settings of your domain name such as name servers. You will need to do this if you want to transfer the domain to a new host ،
The easiest way to look for this is by searching for online reviews of the domain registrar. Keep in mind that very few happy customers leave reviews online, so it is important to read the reviews thoroughly.
3. Hidden fees
You may also need to look for hidden costs and fees when choosing a domain registrar.
Some domain registrars may have special offers for cheaper domains for first-time registrations. Most beginners do not realize this, but the cost of domain renewal is often completely different and even higher.
All good domain registrars make it easy to transfer your domain name to a different company. However, some will put an additional fee.