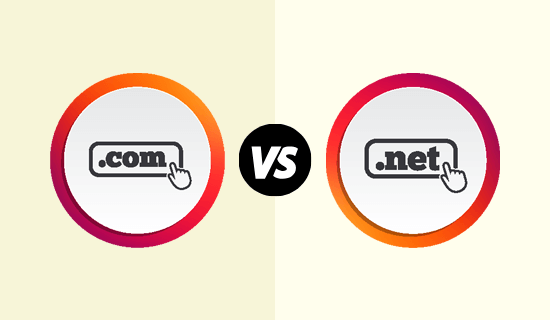 .com VS .net
Have you ever wondered what is the difference between the .com and the name of the extension .net ?
Choosing the right domain name is crucial because it can have an impact on your brand rankings and search.
In this article, we'll explain the difference between ".com VS .net" domain extensions and which one is best for your website.
What is meant by Domain Name Extensions (.com VS .net) ?
The domain name is the address of your website on the Internet .
Domain names always have an extension This is sometimes called a TLD , which stands for top-level domain as in the examples :
example.com

example. net

example.org
You can choose from a wide range of domain extensions when creating your website .
Also, most domain extensions do not impose any restrictions on use, and a lot of new domain extensions have been created in recent years .
However, extensions were originally created for different types of websites. You need to choose the domain name extension that best suits your business while helping you build a well-known brand in your industry .
So let's take a look at the difference between the two most popular .com and .NET domain extensions to see which one is best for your business .
The difference between com and net domains (.com VS .net)
Com and Net are two of the most popular domain name extensions. If the .com domain name extension is not. Your favorite is available, you may be tempted to use net. Instead of that .
However, net. Not a good choice for your business in most cases. The ".com" in the domain name indicates a "commercial" site. This can also cover business websites, websites you want to make money online from, personal websites, blogs, portfolios, and more .
On the other hand, the ".net" in the domain name extension means "network." It was designed for Internet, network, and email service providers .
And if you were wondering about ".org," it stands for "institution" and was originally intended for use by non-profit organizations .
When should you choose the ".com" domain name ?
The com. Synonymous with the Internet since the "dot-com bubble" in the late 1990s. Over 40% of all domain names registered are .com domains.
It is easier for people to remember the .com domain name. More than any other domain extension, it's even more familiar and reassuring, plus it makes your site look professional.
Also, most portable keyboards have a dedicated com button that you won't find for net (or any other extension).
However, there is just one problem you may have noticed that the .com domain names are. So popular that you feel like all the good names are already taken!
However, there are still plenty of smart ways to get the perfect .com domain name. Here are some things you can try:
Check that your domain name represents your business and what you do eg stargardeningservices.com is better than starservices.com .

If your preferred domain name is used, you can add a word before or after it to make it unique so that your site works well.

For example stargardeninghouston.com

Make sure your domain name is easy to pronounce and remember so don't use hyphens or numbers in your domain name.

Take advantage of our online domain name generators , these free tools will help you come up with smart domain name ideas that are unique and still available

.
When Should You Use the .NET Domain Extension

?
The extension is still .net. Logically in some cases you can use it if you provide internet services, networking, database hosting, email hosting or similar services .
net domain name is also used. If it fits your brand for example, Behance.net is a popular online design community that uses the .net domain extension. to his web site. It suited them because they wanted to be a network of artists, designers and companies looking for talent .
Also, less than 4% of all registered domain names use the .net domain extension .
Why would you be tempted to use the .NET extension ?

 
Have you ever tried to register a .com domain and seen something like this ?
Domain name registrars often offer net. As the best alternative to com. This might make you think it's more common than it actually is.
Even the most famous Internet and network services companies use the .com domain name for their business.
Of course 4% is still quite a number of domain names represented by more than 13 million in fact.
You might be wondering who uses all of these domains and in many cases the .net domains are not used. Indeed .
Many companies register the .net extension. So that no one else can get it, they may not use the net. , or they can forward it to com. their own .
Choosing Which is better for SEO (com. VS .net) ?
Many are wondering which domain extension will help them rank higher compared to .com and net. It will not make any difference which you choose from an SEO perspective.
Search engines will treat both domain extensions the same way.
So focus on SEO best practices and create useful targeted content to rank higher.
The important part is your domain name itself, not the extension. For example, stargardeningservices.com will rank better than starservices.net because it has a keyword (farming services) that people are more likely to search for .
How is the domain (domain) purchased ?
There are two ways to get a domain name and you can choose the one that suits you best .
1. Get a free domain name from the Bluehost website
To create a website, you need hosting for the website as well as a domain name. This is a bit confusing when you are new to creating websites .
Make sure to explain the difference between a domain name and website hosting. You'll be paying about $14.99 per year for a domain name and $7.99 per month for hosting, so this may feel very expensive to begin with .
Fortunately, Bluehost offers a free domain name and hosting discount in some cases .
2. Domain name registration
If you don't want to build a website right away, you can register a domain name and create a website later.
We hope this article helped you learn the difference between .com domain name extensions. VS.net
We hope this article helped you to learn the difference between the domain name extensions ( .com VS .net )