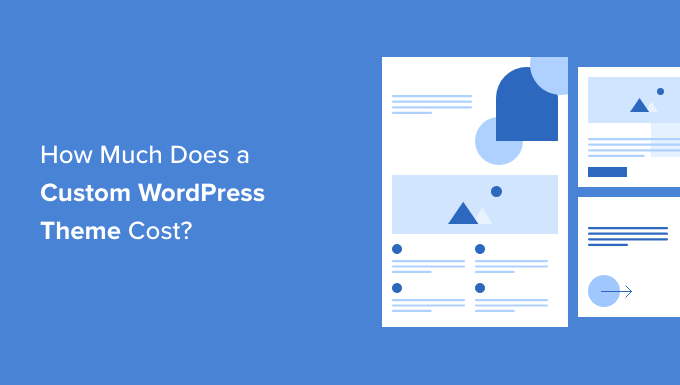 Do you want to know the cost of creating a custom WordPress template ?
Creating a custom theme gives you a great deal of freedom and flexibility in the layout and design of your WordPress site . However, many people do not choose a dedicated topic because they think it will be expensive.
In this article, we will share how much a custom WordPress template costs, as well as some tips on how to save money and avoid overpaying.
What is a custom WordPress theme ?
The custom WordPress template features a unique design, layout and a host of features tailored to your business needs.
There are many free and premium WordPress Themes available, but a custom WordPress theme helps your company or brand stand out with a unique look.
The benefit of having a custom WordPress theme is that you are not constrained by the limitations of a pre-existing template or layout. You have complete freedom to customize your website and have any specific functions embedded in your theme.
Create custom themes using plugin vs designer appointment
You now have a lot of options to choose from when creating a WordPress template. There are DIY template creation tools that you can use yourself, or you can hire a designer and an independent agency to create a WordPress theme.
Let's take a closer look at which is better, using a plug-in or hiring a professional.
Using the WordPress Theme Builder plugin
To create a custom WordPress theme, you no longer need to rely on someone who can design and code your template for you.
SeedProd is a WordPress page builder that has made it very easy to create a custom theme from scratch without coding.
It provides pre-made templates that you can use to get started quickly or use a blank template . to create a custom theme .
Using the tools for creating DIY drag-and-drop pages, you can easily customize each element of your theme.
Just add and remove templates from your theme, rearrange them, edit color, size, font, background image, add your logo and change anything in the template.
Using SeedProd is the best option if you want to create your own custom template with a limited budget.
Hiring a designer and developer to create a custom template
On the other hand, you may be able to find an individual who can make designs and develop the site according to your needs. However, it is difficult to find a person who is excellent both in design and in code.
When you go with a full-service agency, it's a one-stop shop because their team includes designers and developers. This is also the reason why the cost of agencies is usually high. Alternatively, you can hire an independent designer and an independent developer separately and manage the project yourself.
However, design and development is a creative process, so the cost of the project varies based on experience, experience in the field and creativity.
Reputable WordPress development agencies may cost more than an individual or freelance developer. A well-known WordPress developer can sometimes charge more than an agency. In addition, the placement of change orders for conducting revisions on a topic can make its development more expensive.
Keep costs low by having a clear project scope
Whether you choose to hire a professional or opt for a Theme Builder plugin, professional advice to keep costs low is to have a clear project scope.
For example, when you are building a house, you usually have a list of the features you want, such as 4 bedrooms, 3 bathrooms, a living room, etc.
You need to create a similar list for your WordPress site and list all the things you would like to have such as:
An editable homepage with a certificate slider and a list of services
Contact page with a contact form and a Google map with the ability to find directions
Exhibition area for displaying work
Blog section with social media sharing buttons
Having a detailed list makes it easy for someone to give you an accurate quote. It also helps in reducing revisions or change request fees and helps you maintain your budget.
Factors that affect the cost of a custom WordPress template
Since each custom WordPress theme is tailored to the individual client, the cost of the project varies based on the requirements.
Here are some factors that will affect the cost of your custom WordPress template :
Features, functions and forecasts
Adding more features and functions to the custom theme will increase the development time and cost. Usually, customers have higher expectations than their budget allows.
High-quality work with custom features will take more time, and therefore will cost more.
Similarly, you may need premium WordPress plugins to get the functionality you need for your website. This will add to the cost of developing a custom theme.
Change orders and revisions
If you change the scope of your custom WordPress template project in the middle of the process, this can significantly increase the cost.
While minor changes are okay, freelancers and agencies often charge a change request fee for major change requests.
Hosting, maintenance and support
A custom WordPress template does not include WordPress hosting, website maintenance, or providing support after the project is delivered.
Some agencies and freelancers may provide such services at an additional cost.
How much does a custom WordPress theme actually cost
Previously, it was very difficult to explain how much a custom WordPress template costs in fixed numbers because there are several factors to consider.
However, if you select the drag-and-drop WordPress page builder, the cost of creating a custom WordPress theme drops significantly.
For example, SeedProd offers its own Theme Builder in the Pro Plan, which starts at 199.50 dollars per year. You can simply use the plugin to create a custom WordPress for them yourself.
In addition, if you add to this the cost of web hosting, domain and SSL certificate, you can easily create a custom theme for less than 500 dollars.
These days, even large numbers of freelancers are using drag-and-drop page builders now to create custom WordPress themes because it helps them create custom websites faster.
On the other hand, when you hire a freelancer or an agency, a custom WordPress template for a business / personal website can cost between 1500 dollars – 5000 dollars. A custom WordPress theme with additional built – in features or accompanying plugins can cost between 6,000 dollars-10,000 dollars.
If you have a complex enterprise-wide project, it is not uncommon for custom theme project prices to exceed more than 30,000 dollars.
Therefore, we strongly recommend using the page builder to create a custom theme because the total cost will be lower . And you won't have to spend a lot of money on freelancers and agencies.
How to avoid overpaying for a custom WordPress theme
With over a decade of experience in the WordPress industry, we have some tips that you can use to avoid overpaying for a custom WordPress theme.
Look for examples on live websites for inspiration when possible
Compatibility with the detailed range and the list of inspirations really helps in the design process.
You can get a list of websites and list what you like in each of them.
This gives the designer a clear idea of what you are looking for which reduces reviews and overall cost.
Using premium plugins versus custom built functions
Most reputable WordPress professionals will always choose a WordPress plugin versus building it from scratch because it is more efficient and saves cost.
However, as a client, we always recommend that you do your own research as well. The developer you choose often has other suggestions, and it is important to understand why one plugin was chosen over the other.
Customizing premium themes versus building from scratch
One way to significantly reduce the cost while still getting a "customized" look and feel is to find an existing theme that contains 90% of what you want. While this deceives the concept of a custom theme, it can significantly reduce the overall cost.
Powerful drag-and-drop WordPress page builders like SeedProd, Beaver Builder and Divi have created a whole new industry of website aggregators. They come with various templates, so you can easily choose one of them and customize it according to your needs.
Professional website assemblers use existing WordPress plugins along with a drag-and-drop page builder to create a WordPress website . Looking custom made for you at the most affordable price.
Find the right developer or agency for your custom WordPress theme

Due to its ease of Use and low barrier of entry, there is a wide range of people and companies offering custom WordPress theme services.
Finding a developer or agency with the right experience and skills can be a bit difficult. Especially since a lot of" website aggregators " also call themselves developers.
Here are some places where you can find experienced developers for your custom WordPress theme project.
Codecable-this is our first choice to find high-quality WordPress developers who are vetted by a team of experts. You can post your project there and get a free estimate.
WPHired-this is a job board where you can post your WordPress posts. Developers can then apply for the job, and you can discuss your project with them. You will have to look for developers with relevant experience and skills.
WordPress jobs-another WordPress Job Board where you can post jobs and meet developers.
Upwork-an independent website on the internet where you can post your job and conduct interviews with
developers from all over the world. This will allow you to find developers at lower rates. It is a huge community of designers and developers with diverse skills and experience.
A custom WordPress theme can make your website stand out with its unique design and custom features. However, not all beginners and small businesses can afford it right away.
If you are just starting out, you can use a page builder such as sidebrood or a multi-purpose theme . It's a premium to build your own website theme at a fraction of the price.
With a custom theme, you get a unique brand, custom design and custom functions . To help you grow your business faster and give you an edge over your competitors.
We hope this article helped you understand how much a custom WordPress template cost and how you can avoid overpaying.