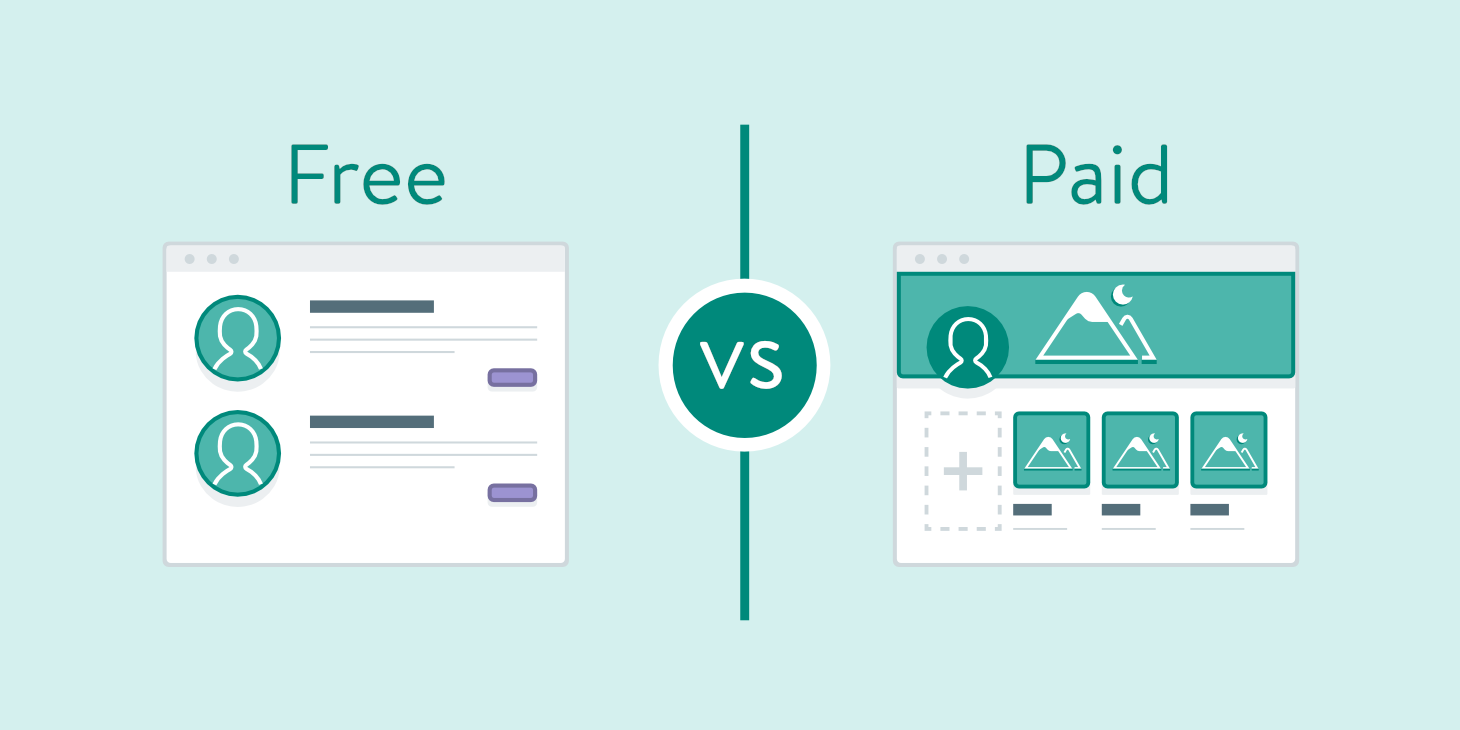 Many people have heard about WordPress and thought about using it to start their first website. But many do not realize that there are two types of WordPress WordPress.com and WordPress.org. and it gets even more complicated when you consider the different WordPress plans.
Simply put, WordPress has a huge ecosystem and it can be scary when you start. However, its popularity proves that a small learning curve is worth the effort. After all, more than 40% of the internet was created using WordPress .
And today, I will explain which WordPress system is right for you.
Before you start, you can review the article is WordPress suitable for my site.
What is WordPress ?
The problem with this question is that there are two types of WordPress, but they both use the same software, at least to a certain extent. Let's find out more and ask about WordPress.com and WordPress.org.
WordPress.com it is a self-publishing platform specializing in blogging. It uses basic WordPress files for work, but they have been slightly modified to fit the platform niche.
It is a stand-alone package that includes not only software, but also hosting services.
While preparing WordPress.com free to start, except you are severely restricted in what you can produce. Or, in other words, he has WordPress.com everything , including the right to monetize your content. And you won't get a cut.
This is where the other plans come in, they allow you to monetize your website and use more features that are not available in the free version. You will also need a plan to be able to conduct any e-commerce on the platform.
What is it WordPress.org?
WordPress.org it is a free open source program that anyone can use and is often referred to as self-hosted WordPress . When someone mentions WordPress, this is the version they mean because it gives you complete control over your website.
While the program is free, you will need to pay for web hosting services. The good news is that the competition is fierce, so the prices are very low. In fact, you can get web hosting for less than the cost of a daily cup of coffee for a month.
With this WordPress, you can create any type of website without any restrictions. You own your content and you can monetize it the way you want. Not to mention that the number of plugins and templates is much higher than you might find in WordPreds.com.
So what's the difference ?
WordPress.com it is a software as a service (SaaS) that provides multiple plans with additional features, while WordPress.org it is an open source program and free to use.
You can access all WordPress features in a self-hosted environment at no additional cost to you.
At the same time, on the WordPress.com , you must pay for the correct plan to access certain features. This can cost significantly more than a self-hosted site. As part of an open source program, the number of free plug-ins and themes is much larger.
The value and customization options are much better in a self-hosted environment.
Plans WordPress.com
Serves WordPress.com customers have multiple plans to choose from. I will list these plans in order by their level but keep in mind that each plan contains everything that the previous ones include but with some new additions.
So let's get into what each plan offers.
Note: while all plan rates are listed as monthly rates, they are billed annually. The initial costs are therefore much higher than you might expect. This is also true for most web hosting companies, so be on the lookout.
The Free WordPress plan is the most common starting point, and that's where we'll start.
In this plan , you are given a free subdomain, which will appear as "URL.WordPress.com" and yes,it's inconvenient for SEO. You will also have access to a free SSL certificate and 3 GB of storage.
You will also have access to the free themes offered by WordPress to get started. This is not a bad starting point if you are just testing the water, but there are some serious limitations.
You can't monetize your website, you can't use a custom domain name, and there's no customer support.
Instead, you will be forced to display ads WordPress.com on your own website.
The personal plan will return you to 4 dollars per month or 48 dollars per year. The main difference between this and the free plan is that now you can use a built-in custom domain name for the first year at no cost to you. And you will even be able to remove ads WordPress.com this one.
Moreover, your storage capacity has increased to 6 GB and you now have access to email support. The biggest advantage is the ability to create content only for subscribers, which is just content that only subscribers can see.
It's not much, but it's a big improvement over the free plan.
The Premium WordPress plan costs 8 dollars per month or 96 dollars per year. This plan includes everything from the personal plan, but enhances many options and adds new ones.
For example, you will now have access to premium themes, which can be customized using custom CSS.
This plan also opens the door to additional monetization options. Now you can choose to view WordPress ads and get paid for them. You can also accept PayPal payments and integration with Google Analytics.
This is a plan WordPress.com the most common are because they give you a great deal of control over your website at a good price.
WordPress Business Plans start from 25 dollars per month or 300 dollars per year. As always, you can expect all the features from previous plans, but with additional improvements.
One of these improvements is the huge increase in storage space, which increases from 13 GB to 200 GB.
The main features of this plan include the ability to remove all signs of WordPress.com to make room for you, the freedom to install plug-ins and download themes, automatic backups.
The price is much higher than the previous plans, but it includes a lot of necessary features for companies.
Last but not least is the e-commerce plan. This starts at a price of 45 dollars a month or 540 dollars a year. This is the most expensive plan and includes every feature offered by the platform with an emphasis on operating an online store.
The main difference between this and the business plan is that now you can accept payments from more than 60 different countries, integration with several popular shipping options, access to a variety of premium themes designed for e-commerce, and a huge selection of marketing tools.
However, the price is prohibitive compared to other packages, but it comes with every advantage.
What about self-hosted WordPress ?
WordPress does not offer or WordPress.org self-hosted no plans. Instead, you have full access to the program. Once out of the box, he can do everything that the most expensive plan can do WordPress.com and more than that.
However, you will find yourself paying a monthly fee due to web hosting. A web host is a company that leases you a web server, where your website is stored. Their performance will have a direct impact on the performance of your website.
Compared with the most expensive plan on WordPress.com , which is still limited compared to the self-hosting of your site, you will save a lot of money in general.
There are a lot of web hosting companies to choose from, but not all of them are equal. Thus, you need to choose the best.
Other than web hosting, the only other mandatory cost is the domain name, which is included for free by most web hosts. There are optional costs such as premium themes and plugins if you choose to use them.
Why is WordPress Superior self-hosted ?
So the real question is why self-hosted WordPress is more popular than WordPress.com? the fact is that for a variety of reasons I will cover it.
While it contains WordPress.com with over a hundred titles to choose from, it's nothing compared to WordPress.org. self-hosted WordPress sites have access to thousands of free and premium templates from scratch.
In comparison, you'll need to upgrade your plan to get more theme options, or even to get the ability to customize them. Until then, the WordPress.com he has only a small part of the available options.
Moreover, everything is related to the topic WordPress.org customizable.
This is a big reason for the popularity of the platform, as themes can be designed to suit any type of website.
There are many websites for selling products, and like most things, there is no comparison here. Provides WordPress.org a better environment for running an online store, and all thanks to the WooCommerce plugin .
It enables you to convert WordPress into an ecommerce website at no extra cost, unlike WordPress.com. it originally supports multiple payment gateways (PayPal, Stripe, etc.) and currently operates over five million online stores.
There is no contest here, e-commerce is free to setup, offers more options , and has lower transaction fees while using the sites WordPress.org self-hosted.
Many websites may want to integrate with third-party services.
For example, if you want to create an email campaign, you should probably consider Mailchimp. This service is available on the platforms , but the more you dig deeper, the more you realize that the options WordPress.com limited.
While in WordPress.org , the options are almost unlimited. Since CMS is the most popular on the market, almost everything is compatible with WordPress. Most of them have custom plugins or API support that makes integration easy.
Again, you'll need a more expensive plan to be able to access basic integrations on WordPress.com. in this case, self-hosted WordPress is much better.
WordPress.org completely free to use, the only cost associated with it is web hosting and a domain name. And even then, they are much cheaper than any of the plans it offers WordPress.com.
You always have complete control over the ads displayed on your website and you can reap the benefits from them.
It's also worth highlighting that you may end up paying for features that you don't use in plans WordPress.com. while in WordPress.org , you can freely negotiate plans with your web hosting company to pay for only the resources you need.
In terms of value and potential gains, there is no competition here ; WordPress.org he is the best.
When it comes to WordPress.com , you have only one option available. This means that if you are not satisfied with the service or you need more server space beyond the limits of your plan, you will be out of luck.
Where the WordPress.org it allows you to use any web hosting service.
As a result, you have complete control over the service of your choice. This means that if you are not satisfied with the web host, you can find a new one. Or if you need to add more space or resources, this is not a problem. Just contact the web host to change your plan.
Web hosting services are designed to grow with your business. Therefore, it doesn't matter how much you grow as they can usually support you.
Self-hosted WordPress is the best option
No matter which way you look at it, a self-hosted WordPress site is the best option for creating a website. Outside of the free plan, self-hosted WordPress is cheaper and offers much more options than any plans it offers WordPress.com.
There is a reason why more than 40% of the internet choose to build using WordPress.org … Because it works. The versatile toolset it offers users is unparalleled in the CMS space. You can create any type of website at any scale.