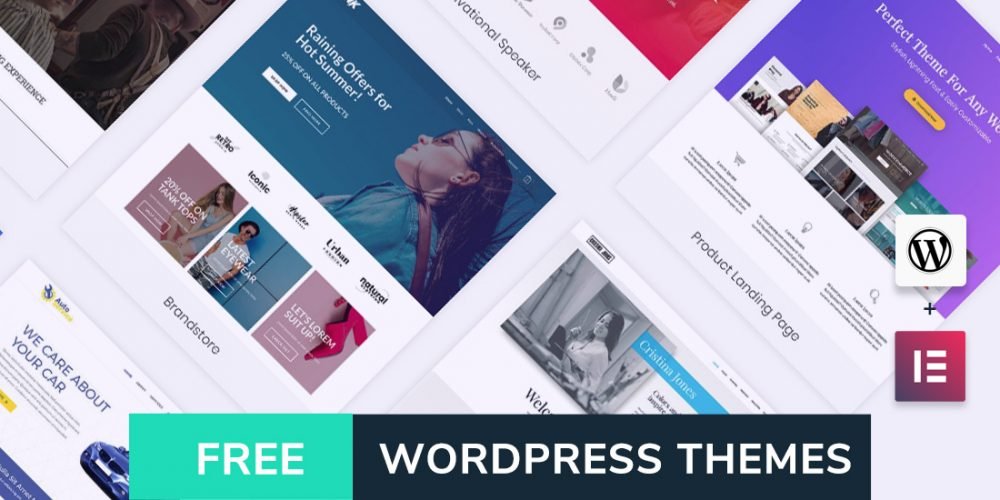 You will often hear comments in the WordPress theme world that free themes are risky because they are
not supported either, or they are sometimes designed by amateur developers.
In some ways this is true, so it is very important for you to make sure that your free WordPress theme is a
quality design with decent support.
After all, the premium theme overall has solid code and an on-going support team to help you when you're in trouble.
However, some of the free WordPress themes are just too great to miss. Some of them are not only great, but they offer better functionality than some of the themes you may have to pay for
That's what we're looking for today, a collection of 40 free WordPress themes you can proudly call your own, for next to nothing.
The free themes are perfect for hobbyists, bloggers, and people who simply want to create an online journal of their ideas, but they
also work wonders for legitimate businesses that want to save some cash for other endeavors .
From parallax effects to beautiful booking pages, each and every one of these themes has powerful ingredients that will make you think twice before paying for a theme.
So, without further ado, keep reading to learn more about the best free WordPress themes in the market.
1. Sydney
In Sydney Logo is designed for businesses and freelancers who want to provide solid web support. The customization options are rather extensive, with options for Google fonts, logo uploads, and more .
The full-screen slider works well for those who want to display large images or promotional banners , while full color control
provides the ultimate branding environment.
Static navigation helps people navigate through your site, and the front page blocks act somewhat as a drag-and-drop
interface for professionally designing a clean interface.
The theme caters to those who want to view the site on mobile devices, and it comes with over 600 Google Fonts for customizing your typography.
Sydney is fully translation ready to reach those who don't speak your languages, and the parallax background
adds a creative side to your site. You can choose between a static image or a slider, and implement social
emoticons to send customers to your Facebook and Twitter pages.
2. Botiga
If you want your website to really stand out, you need just the right look. Botiga can make this easy.
This complete e-commerce theme has a sleek and elegant design that makes displaying your store's products simple and effective.
It's perfect for any industry or size of business, and it comes with an impressive array of style options .or
This includes product card customization features, multiple checkout styles, three product page gallery designs, and five header types.
Botiga also lets you add a blog, choose from six different archive layouts, and choose from multiple badge styles to promote specific products.
It's a powerful and versatile theme that's definitely worth checking out.
3. Neve
If you're looking for a modern and fast theme that also works with your favorite page builder, look no further than Neve.
This theme is not only compatible with page builder plugins like Site Origin, Divi, Elementor and Brizy but also compatible with Gutenberg.
As far as design is concerned, the theme has a clean design that makes your content stand out, so it's ideal for small businesses, freelancers, and agencies that want to improve their conversion rate.
j You can customize the color, fonts, and other visual styles, and choose from a variety of background capabilities that include sliders, images, videos, and more.
Neve also offers huge menus so that you can easily organize the navigation and add as many pages as you want without overwhelming your visitors.
Moreover, the theme is optimized to load quickly and to be fully responsive .
You can install the demo content with a single click and you can refer to our help documentation, forums, and video tutorials if you need help setting it up.
What sets the Neve theme apart from other free themes is the fact that in addition to support documentation, you can also get support from authors as well.
All things considered, the Neve theme is definitely worth checking out if you want a quick, clean, and easy-to-use theme that's also optimized for search engines.
4. Zakra
The Zakra theme is an elegant, modern, and responsive theme that can be used for multiple industries.
The theme comes with several demos that range from business to ecommerce demos.
You can also use Zakra to create a personal or corporate blog. The theme is very flexible and includes a great
header area where you can add a background image along with a call to action that directs your visitors to your most important page.
There's also plenty of space to showcase what your business has to offer as well as the ability to display team members, testimonials, client logos, and stylish counters.
Zakra comes with support for the Elementor page builder plugin and Gutenberg editor.
Moreover, it is GDPR ready and can be easily customized. You can set a custom branding color as well as choose from several different header styles.
Other customization options include seven widget areas, general layout options, and plenty of typography options.
The Zakra template is optimized for SEO, which will help you rank better in search engines, loads fast, and includes demo content so you can speed up the design and setup process.
5. GeneratePress
The reviews are in and users and bloggers around the internet say that GeneratePress is a great template, especially when used with drag-and-drop editors like Elementor. It's simple, elegant, and modern, allowing any skill level to jump right in and start customizing.
The great news about GeneratePress is that any beginner can install the template and start blogging in a matter of minutes.
For more advanced developers, it's a fast, lightweight and highly customizable free WordPress theme.
Not only that, but the premium version is being sold at a reasonable price, which includes everything from beautiful typography to WooCommerce support, and sections to advanced menus.
But this mainly concerns the free version of the GeneratePress WordPress theme. As mentioned, it is a lightweight theme (less than 1MB compressed). This is impressive for any theme, and it comes into play when you're trying to make your blog really fast.
In addition, the GeneratePress theme has clean coding that follows WordPress coding standards. Therefore, it is compatible with all well-coded plugins, which reduces issues in the long run.
The template can be translated into more than 20 languages, and it features nine widget areas for creativity.
You'll also find five menu navigation positions, dropdown menus, and several sidebar layouts.
Astra is a multipurpose WordPress theme  that has rapidly grown in popularity and continues to dominate sales. It's so attractive because it lives up to the hype. It's fast and very customizable. It is considered one of the most important wordpress templates .
This theme is powerful and comes with several pre-built websites that you can quickly select and get up and running.
You can customize it without having to touch a line of code. In addition, you can use it in conjunction with many page builders.
Some of the other features of Astra include layout settings, header options, color and typography customization options, and superior performance thanks to not relying on jQuery, and a load time of 0.5 seconds .
Another thing you should know is the list of great integrations available. Astra works with WooCommerce, Beaver Builder, Elementor, Toolset, Yoast, and LearnDash .
Finally, this template is accessible, SEO friendly, uses hooks and filters, is translation ready, and offers a broad knowledge base to get you started .
If you are looking for a lightweight and extendable theme, then OceanWP is worth a look. It is one of the top WordPress themes
This multipurpose theme is compatible with popular page builder plugins, including Elementor, Beaver Builder, and Divi.
With its extendable code base, OceanWP is an excellent tool if you are a developer planning to add your own customizations.
It also includes built-in SEO features to help you easily improve your site.
Although this theme is free, there are also plenty of premium add-ons to choose from. This includes extensions for custom page layouts, full-screen trading, and pop-ups.
OceanWP is also a solid choice if you're looking to build a multipurpose site. For example, it also lets you create a blog, about us page, portfolio, shopping, and more with ease.
If you want your website to feature lots of high-quality visual content, it's smart to choose an image- or video-centric template, like Inspiro.
This lightweight and freemium theme showcases a stunning modern design packed with visual features. This includes full screen space with YouTube and Vimeo support, integration with popular page builders, and video and photography profiles.
It also offers slideshow with video background, theme options panel and gallery module. The Inspiro template is flexible enough to work with many types of online businesses.
For example, if you are a photographer and want to sell your work, this theme could help you stand out from the competition.
The Ashe WordPress theme is a solid theme choice for many different types of blogs. It can be used for fashion, photography, health, food, baking, travel, beauty, personal, and many more niche blog categories.
Why is it so versatile, you may ask? Quite simply, its minimalist style is elegant and refined, which makes it a favorite choice for those who want to make their content stand on its own two feet.
Some of the features include a mobile-friendly design, WooCommerce support, and good documentation. It is also designed to be fast and works well with many other popular plugins.
It is translation ready, RTL ready, SEO friendly, and easy to customize. Some of the things you can edit include the logo, header image, full screen, Instagram slider, footer menus, and much more.
In addition, it is compatible with most drag and drop page builders including Beaver Builder, Visual Composer, Elementor, Divi, SiteOrigin, and others.
When looking at free templates, it pays to list all the features you would expect from a premium solution. In the case of Hestia, the premium features are rather impressive.
However, you don't have to pay anything to download and run Hestia on your WordPress site.
Initially, the templates has a simple and material design for quick settings and beautiful user interactions. The responsive design looks great on all mobile devices, and the multipurpose functionality ensures that all types of businesses can benefit from it.
I would recommend the theme to startups and small businesses, as it provides a nice area for your promotions and explains what your business is all about. Plus, you can talk about your employees and their certifications for a more elegant feel.
The main reason to choose Hestia WordPress theme is the WooCommerce integration. This displays neat and interesting product listings, with an emphasis on galleries.
This drag-and-drop content creation tool is designed for developers of all experience levels. Obviously, beginners don't want to work with code, and advanced designers want to speed up their process.
Some translation tools are included in the theme, and you get custom background settings to promote your site with your own images.
The one-click install is a bonus, and the mega menus make great tools for sending people to the hundreds of other pages on your site.
If you are looking for visually based templates, PhotoFocus is a top contender. This free multipurpose photography theme can make your WordPress site look beautiful and elegant.
Although it was designed specifically for photographers, PhotoFocus is flexible enough to work with other types of websites, such as business sites and blogs. It comes with an easy to use interface and clean navigation. I
t also includes various layout options, a featured slider, a distinct content area, header media, and more. PhotoFocus may not be the best choice if you sell physical products.
However, it is worth considering if you work in a creative field and want a great way to showcase your work.
If you want to present your blog to the world in a clean and attractive way, you can't go past Cenote WordPress Template.
This free offer is specially designed with bloggers in mind and is very easy to use as well. It's easy to set up and comes with tons of features that make the art of blogging a little easier.
This theme comes with a variety of demos that you can use for many different blogging styles, including food, travel, business, fashion, and more. This makes it much more straightforward to get your blog up and running.
Simply select a demo, import it, customize its presentation, and then add your content. That's really all there is to it.
Vantage looks great for any type of business, especially in the tech market. Not to mention, it's completely free! To get started, Vantage offers a fully responsive layout for people who want to view your site on the go.
Also, it integrates well with some of the most popular WordPress plugins like PageBuilder and WooCommerce.
The WooCommerce integration is actually one of the best features as you can start selling items on your website without any issues.
Many people use free WordPress templates to build a portfolio because they support high-resolution images and you can create a filterable grid with thumbnails and links to some of your best work.
Not to mention, a custom background and custom menu allow for great branding opportunities, while threaded comments help build a community where people can chat with you and your other followers.
14. Page Builder Framework
To run a successful online business, you will need a powerful template to run your website. Fortunately, the Page Builder Framework can get the job done
. This modern theme has a simple, fast and easy-to-customize design. It's specifically designed to work with popular page builder plugins like Elementor and Beaver Builder, making building your dream website quick and easy.
Page Builder Framework is lightweight, highly flexible and WooCommerce ready. It also offers a premium add-on that includes features such as fixed navigation, transparent titles, white label settings, and advanced typography.
No matter your industry, Page Builder is an impressive template worth considering.
You'll notice that the majority of the homepage is built with widgets, enabling those with some WordPress experience to quickly navigate and manage website elements.
So, if you want to put a gallery or a list of recent posts on your homepage, it won't take you long to do so. Besides custom colors and titles, the ColorMag template integrates with just about any plugin you can imagine.
So if you want to install something like WooCommerce plugin, you should have no problem implementing an online store.
For example, you can upload a good number of products and collect money with fast payment processor integration.
Overall, the functionality of ColorMag WordPress templates is fairly basic.
You shouldn't run into any problems if you're not an experienced developer, but more advanced designers will still find it impressive.
The simple backend is useful for developers, and you'll have no problem managing the many authors writing for your journal.
Consider this template if you are sure that you plan to sell products from your website. This is one of the best options for those who intend to use WooCommerce because not only does it look great, it comes directly from the WooThemes company.
Several layout and color options are provided to customize your store, and multiple widget areas come with the download to quickly manage a clean interface.
What's more, the entire Storefront theme is fully responsive so that your customers don't have to worry about reaching for a regular computer to buy something from your store. They just need a phone or tablet for a quick transaction.
You'll also find that templates provide great tools for threaded comments, logo uploads, color changes, and language support.
17. Kadence
Looking for a quick and easy to use wordpress theme ?
If so, you might want to check out Kadence. This is a relatively new template that is lightweight and fast to load.
It comes with a built-in drag-and-drop HEAD and footer builder, a library full of starter templates, and comprehensive integration with many popular plugins.
It is definitely one of the simpler themes on this list.
However, this might be the perfect choice if you are looking for a beginner-friendly template that doesn't come
with a huge amount of settings and options.
Spacious is a beautiful option with a fun and clean design and plenty of space to include your content.
The responsive design is ideal for business websites, portfolios and blogs, using four page layouts and two page
templates to help you design your site in a short amount of time.
In addition, four blog display types are offered, along with 13 widget areas, which almost turns the backend
into a drag-and-drop interface.
Spacious provides translation options to communicate with people who don't speak your language.
Not to mention, you can choose between dark and light leathers for a little help with branding.
Basic color features guide you to the shade that matches your logo, and there are boxed and bold charts for you to choose from.
19. Woostify
It is very important to ensure that your online store offers a seamless experience. To help you achieve this, it is essential to use a high-performance template like Woostify.
It is also rated as one of the high performance wordpress templates This freemium template is built for performance and speed.
It is lightweight and built with full WooCommerce integration, using SEO ready architecture.
In addition to this functionality, Woostify also comes with some great design and customization features. It offers various product page styles, menu layouts, and multi-step checkouts.
Wootsify also includes scrolling styles, shopping cart layouts, and a customizer .
Overall, this is a solid theme if you're looking for a solid balance between performance and looks .
20. Airi
If you're looking for elegance in a wordpress theme, Airi features a beautiful, spacious design with plenty of white space
and clean typography that makes it easy for readers to focus on the content.
The HEAD area features a full-width banner image, perfect for sharing your business slogan or mission along with a call
to action that prompts visitors to contact you or fill out an inquiry form.
Next, you'll notice that there is a brief section that allows you to share a brief history of the company and an area where
you can highlight your services as well as testimonials from clients and past clients.
The Airi theme is ideal for freelancers, agencies, startups, and small businesses, but there is one feature that makes Airi
more than just a business WordPress theme.
Airi comes with full Elementor integration, which means you can easily use this theme for any type of website.
Thanks to Elementor's drag-and-drop interface, you can easily add elements to your pages and posts to create any type of layout.
On top of that, Airi also integrates with WooCommerce so that you can start selling both digital and physical products on your site.
On top of all that, Airi allows you to easily modify colors, fonts, backgrounds, and more with the built-in customization tool . This template is also translation ready.
We hope this article will help you choose the best template for your business, and if not, we have dedicated another part so that you can find the best template for you, the sequel to 40 Best Free WordPress Theme of 2022 ( Part 2 )