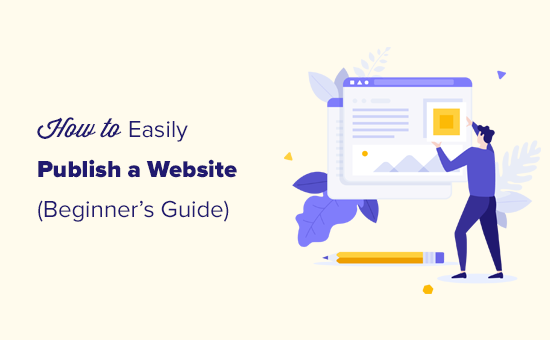 Do you want to publish a website but are worried about technical issues?
It is a misconception that you need to be a web designer or developer to code a website. There are many tools that make it very easy to put your website online without writing any code. In this article, we will show you how to easily publish a website with step by step instructions.
Use a website builder to publish a website
Most beginners feel they need to learn programming and web design skills to publish their websites.
This was true in the early days of the internet. At that time, companies either hired web developers or had to learn coding skills to publish a website themselves.
However, things have changed over the years and technical skills are no longer an obstacle to publishing your content on the web.
These days, beginners, businesses, and even developers are using website builders like WordPress to easily publish websites.
Over 69% of all websites on the internet are built using a website builder or CMS. This means that even developers do not need to write code from scratch to publish a website.
These platforms allow anyone in the world to easily publish a website and put it online. We will show you the easiest and most popular way to publish a website
Publish a website electronically with WordPress
WordPress is the most popular website builder on the market with the slogan "Democratize Publishing". It is free and open source software that anyone can use to build any type of website.
More than 42% of the websites on the internet are powered by WordPress.
To get started with WordPress, you will need a domain name (such as dr-wp.com) and web hosting (this is where your website files are stored).
We recommend Bluehost . They offer a free domain name and a generous 60% discount on hosting ($2.75 per month).
If you'd like to try an alternative, we recommend SiteGround.
Next, you will need to install WordPress.
Once you have installed WordPress, you will see the WordPress dashboard that looks like this.
Next, you need to install and activate the SeedProd plugin. For more details, see our step-by-step guide on how to install a WordPress plugin.
SeedProd is the best WordPress page builder plugin. It allows you to quickly publish professionally designed web pages for your website using a simple drag-and-drop user interface.
It is very easy to use and allows you to quickly publish your website with professional designs that are already optimized for sales, conversions and SEO.
Alternatives to SeedProd
There are many popular page builders for WordPress. You can use any of the following to publish your website without any programming or design skills.
Beaver Builder – A drag-and-drop WordPress website builder with advanced theme customizations

Divi Builder – Another beginner-friendly WordPress theme builder with tons of ready-made templates
Elementor – A powerful page builder for WordPress suitable for both beginners and developers
We believe that WordPress is the most beginner-friendly platform for publishing your website.
It is widely used and trusted by millions of beginners as well as big name brands such as Microsoft, Facebook, and even the US government use WordPress to power The White House website.
The best part about WordPress is that there are more than 58,000 WordPress plugins that let you add any functionality to your website such as an online store (e-commerce), contact form, SEO features, and more.
You can think of plug-ins as add-ons or apps for your iPhone. They make it easy for first-time users to create and publish a website that search engines love and that's easy for your customers to use.
Publish a web site using Web.com Website Builder
Web.com is one of the oldest and most popular website publishing tools for small businesses.
If you don't want to go through the hassle of purchasing a web hosting service, domain name, and installing web application software, then Web.com website builder will be the right tool for you.
It is a drag and drop website publishing tool that allows you to simply follow the step-by-step wizard to publish a website. It will answer a few questions, and it will generate perfect layouts for you complete with dummy content.
They provide hundreds of professionally designed templates that you can choose from.
You can customize your website design any way you want with a simple drag and drop interface. Once done, just click on the Publish button.
The best part about using Web.com website builder is that you don't have to worry about hosting or updates. You also get reliable support via chat, phone, and email.
If you simply want to quickly publish a small business website or online store, it gets the job done with very little effort.
Their website builder starts at $1.95 per month and comes with your own domain name, business email address, and more.
They even have a custom web design service where their expert team will set up your website.
Web.com Website Builder alternatives
There are plenty of other fully hosted drag and drop website publishing platforms similar to Web.com. Here are some of the hosted website builders handpicked by our team of experts.
Publish your website manually



For those who are eager to learn and want to dive into the basics of HTML, CSS, and JavaScript, this is the path to take.
Note : If you don't have any previous experience with these programming languages, it may take some time to get a basic enough grip to code a good looking website and publish it online.
There are many online course platforms for students that offer beginner web development courses. We recommend checking out the ones offered by CodeAcademy.
You can create a website on your computer, but you will still need a domain name (a web address for your site) and a website hosting service to publish it online.
All websites on the Internet need hosting. It provides you with storage space on an online web server where you can upload and store your website files.
You can sign up with Bluehost which is one of the biggest hosting companies in the world.
nce you sign up for a hosting account, you can upload website files from your computer to your website using an FTP client.
Alternatively, if your web hosting provider has cPanel, you can use their built-in file manager to upload your website in the public_html folder. This protects you from learning how to use an FTP server.