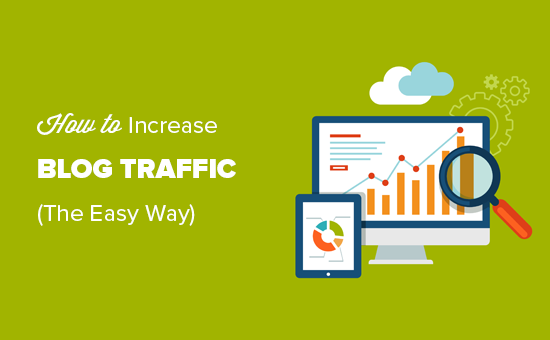 In this article, we will follow up on what we started earlier about the best guidelines and notes to follow to increase the number of visits and traffic on your site:
14. Optimize site speed to load your pages faster
In this age of instant gratification, no one wants to wait for a website to load.
If your site is slow, users will simply leave the site before it loads. Search engines like Google also consider website speed and page load time as an important ranking factor.
To make sure that your website loads quickly, you need to optimize your WordPress performance.
This means that you need to use buffering and avoid unnecessary bloating and optimizing your photos.
15. Start Your Email List Right Away
Most beginners spend a lot of their time bringing new users to their website.
However, over 70% of users who leave your site will never return.
The trick to increasing your blog traffic is not only getting new visitors, you also need to keep your existing ones coming back.
How do you make sure users come back to your website? You can do this by asking them to subscribe to your blog.
Users can subscribe to your website's social media profiles.
However, most social networks limit your reach, and users can only see some of your content.
This is why you need to start building your email list. The best thing about your email list is that you own it.
Nobody can restrict your access, and you can have direct access to the user's inbox. Email marketing is the most cost-effective and most effective marketing tool at your disposal.
So you are losing potential subscribers every day without an email list.
For more information on this topic, please read our article on the importance of building an email list.
Once you have an email list, you can send out regular email newsletters to drive more traffic to your blog.
We recommend Constant Contact, SendinBlue, or ConvertKit.
16. Automatically share your own blog posts
When we stress that you should build an email list, we don't mean that you should stop building a social media following. Quite the contrary, in fact, we want you to continue building your social media following on all the important social platforms, and even finding new niche platforms that you can explore.
The problem with social media is that you have to post content regularly to keep your profiles active and drive traffic to your blog.
If you do it manually, it may take a long time to share the content.
While this is where Uncanny Automator comes in. It is a plugin that allows you to create automatic workflows in WordPress.
17. Regularly share your old articles on social media
If you are like most bloggers, you probably only post one article per day, which means that for the rest of the day, there is no update from you on social media.
On platforms like Twitter, your tweet will soon disappear, and users probably won't see it.
Wouldn't it be nice to automatically share old content at regular intervals throughout the day?
This will help you get more traffic from social media by increasing your visibility and keeping your profiles more active.
Fortunately, you can automate this with tools like Buffer and Revive Old Posts, which we mentioned in previous articles.
With Buffer, you will have to manually upload your updates. On the other hand, Revive Old Posts will let you share your old posts automatically.
18. Explore other social networks
There are many social media sites out there, but most of us spend all our time on a few prominent platforms like Facebook and Twitter.
Obviously, you want to focus on them to drive more traffic to your blog.
However, depending on your blog topics, you may have more success on other social platforms that are less crowded.
For example :
If your blog is about building a business, you may find more engaged users on LinkedIn.

If you are running a lifestyle or fashion blog, then Instagram might be the platform you should focus on.
You can always spend some time on Quora answering user questions that build backlinks and help increase blog traffic.
We recommend that you try to spend more time on social networks other than the prominent platforms. You may find a more enthusiastic audience and a larger following there.
19. Participation in societies
Online communities are a great source of traffic, mainly because they have already engaged users who are interested in the topics you discuss on your blogs.
You can find smaller communities on Reddit, LinkedIn groups, Facebook groups, YouTube communities, and much more.
Pro note : Don't just start posting links to your articles. This is called spam and the moderators will ban you immediately.
You should spend some time building a reputation, answering questions, joining discussions, and then only sharing your website if it's appropriate.
20. Add your own groups on the web
Another way to build a passionate following for your blog is by creating your own online group.
You can also use free platforms like Facebook or LinkedIn and invite users to join them. As your community grows, so does your influence.
Active participants in your group will help you proactively promote your blog on their social media profiles.
After some time, this small community can become a major source of traffic for your blog.
21. Participation in question and answer sites and competitions
You may have noticed that sometimes older answers from websites like Stack Exchange, Quora, or TripAdvisor can outperform more established blogs in search results.
Q&A sites are one of the largest online communities and a source of traffic.
The advantage of answering questions on these platforms is that your answer will stay live for a very long time which means it can become a regular source of traffic to your blog.
Again, we wouldn't recommend you go there to just post your own links.
Instead, you should write actual detailed answers with links to your blog posts only if they are contextually appropriate.
22. Find influencers and interact with them on social media
Influencers can help you promote your blog and can greatly increase your website traffic.
However, the problem is that most influencers already receive a lot of messages.
Since you're a new blogger, they assume you probably have nothing to offer them in return.
So how do you get the influencer's attention? And most importantly, how do you get them to promote your blog?
First, you need to start a conversation with them on social media.

Then, share their content with your comment, reply to their threads, and leave comments on their blog posts.

Make sure that each interaction adds value to their discussion.
Influencers love it when users appreciate their efforts. They will notice and remember you. Once a relationship is established, you can contact them to advise you.
It sounds like a lot of work, but it helps you build lifelong friendships that are mutually beneficial.
23. Use Social Proof to Get More Traffic
Humans are social beings by nature. We like to know about other people's experiences as social evidence and use it to make our own decisions.
You need to use this social proof on your website, on your social media profiles, in your tweets, and in your emails to promote your blog.
Now you may be wondering, what if you're just starting out?
How can I benefit from social proof on my blog? There are plenty of ways to take advantage of social proof, even on a new blog.
Add a feedback form and ask users to leave comments that you can share on your blog.

Approach users directly and collect testimonials

Ask users to rate your articles

Ask users to write reviews
Numbers are brain candy. Share your email list subscriber numbers and other numbers as social proof. Don't worry if your numbers aren't as big as other successful blogs, it's still solid social proof.
24. Social Media Monitoring
People ask questions all the time on social media sites like Twitter.
Set up alerts to monitor keywords on social media, then go into conversations to answer their questions with a link back to a relevant article on your website.
You can also monitor social media for your brand name, links, conversations, and more.
There are a lot of tools you can use for this. Here are some of the best social media monitoring tools that can make it easier for you.
25. Track Your Website's Keyword Ranking
After you start creating and promoting content, you need to track how well each piece of content is performing.
Moreover, what keywords are they ranking for. You can do this using a tool called Google Search Console.
It is a free tool provided by Google that helps you to know your website's performance in Google search.
Next, you may want to monitor competitor websites.
Google Search Console will not tell you who is ranked higher than you and why. For that, you will need the SEMRush tool.
This will also give you detailed insights into your competitors, their top keywords, and what you need to do to outperform them.
26. Track your site traffic and user engagement
Now that you're starting to get some traffic, you need to know where your users are coming from and what they're doing when they're on the site.
Thus without this data, you cannot evaluate your strategy or plan your next steps.
This is where Google Analytics comes in It tracks visitors to your website and helps you see reports of traffic, engagement and other user activities on your website.
The biggest advantage of using Google Analytics is that you can see what your users do when they visit your website.
Knowing this data helps you double down on what works, and stop doing what doesn't.
27. Continue Learning Online Marketing and SEO
These tips will help you increase your blog traffic and continue to get more subscribers and traffic.
However, as your blog grows, you need to learn more ways to grow your business.
Follow our articles where you can learn more about WordPress, growing your blog, and optimizing your search engines.
Another great resource that you may want to follow is the OptinMonster blog which is the best conversion optimization software on the market.
In addition, their blog is where they regularly post articles on how to get more traffic, subscribers, and sales.
We hope these tips will help you increase traffic to help you further develop your blog or website.