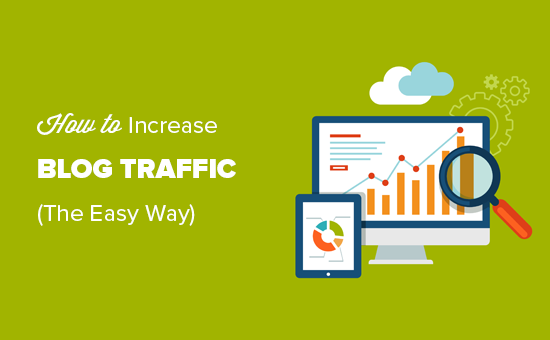 Starting a blog these days is easy with platforms like WordPress. But the big challenge that you will face once you get started is to bring more traffic to your blog or website.
Don't worry, you don't need to be a marketing expert to promote your blog.
You can easily increase your blog traffic to get more visitors by using some proven best practices. And in this article, we are going to share with you some of the easiest and time-tested tips to increase your blog presence.
Unlike other articles on growing blog traffic, we are just going to share the tips used to increase traffic to millions of page views every month.
Before you begin – set up push notifications for your site
Website push notification helps you stay in touch with your visitors after they leave your website, so you can bring them back.
The tool called PushEngage is a free program that we highly recommend to all bloggers, website owners, and e-commerce sites.
It allows you to send notifications to your visitors on mobile or desktop that are hard to miss, so you get a much higher engagement rate than social media or email.
The best of all is that you can engage with your visitors after they leave your site.
Not many website owners know about this tactic because it was difficult to set up in the past.
PushEngage makes that easy.
Here's how to add push notifications on the web in WordPress. Once you do, any of the tips below will double your traffic growth!
1. Create audience profiles to understand your blog users
Before you start creating content for your blog, it's important to take some time to understand your target audience and what they're looking for.
You can build an audience framework by answering the following questions:
Who is your target audience?

What problems are they facing that you can help solve?

What type of content are they looking for?

How would they ideally try to find answers to their questions?
Answering these questions will help you get a clearer picture of your target audience.
You can also expand on this by adding more personal questions such as:
how old are they

What are their jobs?

their level of education?

How experienced are they in the topic of your blog?
These audience profiles are also known as buyer personas in the e-commerce industry.
2. Conduct keyword research to determine your content strategy
Keyword research is a technique used by content creators and SEO experts.
It helps you discover specific words and phrases that users type into Google and other search engines to find the content they are looking for.
Usually, beginners just rely on their best guesses when creating content.

As you can imagine, this strategy is hit or miss.

If you use the "best guess" strategy, there is a high probability that your articles will not rank highly in the search engines.

Simply because no one is looking for the keywords you used, or there is intense competition for those keywords.
By conducting proper keyword research, you will unlock the following benefits:
Find out the actual search terms that people are searching for

Find unique content ideas for popular search terms

Learn from your competitors and beat them with better content

Create a series of basic articles to drive consistent traffic to your blog
The question now is how do you actually do keyword research? Fortunately, it is not as difficult as you think.
There are plenty of free and paid keyword research tools out there that can help you.
All you have to do is enter a keyword, competitors blog/website URL, or your own URL to find out more keyword ideas.
3. Make an editorial calendar :
Once you've done your keyword research, you'll likely come up with a lot of blog post ideas.
Sometimes, a large list of keywords can overwhelm beginners so much that they simply give up.
To make sure this doesn't happen to you, we recommend creating an editorial calendar.
Remember, a great blog isn't created in one day. It takes time and effort to create a successful blog.
Creating a written calendar will help you create and stick to the plan as well.
There are a lot of useful tools that you can use like Asana and Trello to name a few.
These tools come with a solid set of features that will help you stay ahead of the curve. The goal is to organize, to establish an overview of your strategy, and to be more productive.
Here are some additional tips on managing your editorial workflow more efficiently.
Don't be hard on yourself
Start with two articles a week and gradually increase your pace when you can.
In addition, be consistent with your posting schedule. Make sure you follow your calendar and post regular content as planned.
So add notes, keyword ideas, and outlines to your calendar. This will help you produce better quality content when you sit down to write.
Use colors, tags, categories, and other features in your calendar app to make it more organized and visible
4. Create comprehensive and useful content :

The most important thing that users and search engines look for is good content.
For a blog, a quality piece of content is usually a comprehensive article on a specific topic that covers all the details.
This makes it very useful for users. These comprehensive articles are known as "essential articles".
Other experts may refer to them as main content or core articles. Basically, these are your most important articles.
You need to choose the most promising keyword and then provide as much information as possible in one long article.
You should create as many key articles as possible to cover all the important words in your field.
Here are some tips to keep in mind when creating essential content :
The primary content can be any type of article.

For example, a how-to guide, tutorial, comparison article, opinion piece, list, etc.

The difference between core content and other articles is that your core articles are more comprehensive and provide in-depth information on the topic.

Your basic articles are not dependent on time.

It is constantly renewed and always useful.

Although we recommend keeping them updated with new information to stay on top of the search results.
5. Make your content legible
As mentioned earlier, search engines and users love longer, comprehensive articles that provide all the information they need.
The problem now is that humans have a short attention span.
A slight difficulty in reading or understanding will put users off, and they will leave without looking at all the useful information you have provided.
To solve this problem before it happens, you need to make all of your content easy to read.
The best place to start might be to present your essay in short sentences, using a friendly tone and lots of visuals.
Here are some key tips for making your content more readable and user-friendly.
Use smaller sentences and paragraphs.

This leaves plenty of white space around the text making it easier to look at and read.

Try to improve your typography with more readable fonts, large font size, and plenty of line spacing.

Check your content's readability score.

Yoast SEO comes with a built-in tool for that, you can also find a lot of readability checking tools online.

Use the grammar checker.

We recommend Grammarly, it not only checks grammar but actually helps you write better.

Use photos, screenshots, videos, charts, and other visuals.

These media elements make your article more engaging and easier to read.
6. Learn and apply the basics of SEO on your site:
SEO is a set of best practices that help you make your site more search engine friendly.
You don't need to be an "SEO expert" to improve your website. Contrary to popular belief, anyone can do SEO for their websites without hiring an expert.
There are plenty of SEO tools and plugins, free tips, and step-by-step tutorials available that you can use.
We recommend the All in One SEO plugin for all WordPress sites. It is the most comprehensive website and SEO tool out there.
The free version includes all the SEO features you'll need on your website.
You can learn everything you need to know about SEO, in our Complete WordPress SEO Guide for Beginners.
Includes step by step instructions.
7. Learn how to write great headlines
When users find your content in search results or RSS feeds, the first thing they see is the title of your article.
A catchy blog post title stands out and gets more clicks. While a plain and boring title is ignored, users are more likely to scroll it.
This makes headlines very important. You need to know how to write better titles for your blog posts that grab user attention and get more clicks and traffic.
Fortunately, blogging experts have been researching the headlines for a very long time, and you can benefit from their findings.
These are the building blocks of an effective title :
A good headline elicits an emotional response (joy, surprise, shock, curiosity, fear, excitement, greed, etc.).

It offers users reward and value

4

Promotes content by including targeted keywords
Copywriters use strong words to elicit emotional responses and drive traffic.
They tell users why the article is important or what they will get from clicking on the title.
Finally, a good headline includes a call to action that is often subtle and sometimes implicit.
To learn more, we recommend checking out these headlines that have gone viral and what you can learn from them.
You can also use the following free address analysis tools to help generate better addresses :
8. Internal Linking is a Routine Task
Now that you've started creating quality content, it's important to link to your articles from your existing blog posts.
This is called internal linking, and it plays a huge role in SEO and driving blog traffic .
This is why internal linking is so important:
Internal links help Google understand the context and relationship between the different articles on your site.

It then uses this information as ranking signals.

Internal links, when placed strategically and in context, can help you increase page views and reduce bounce rate.

It is difficult to ask third party sites to link to your articles.

It is easier to create links on your site.
We recommend making sure that your new articles are permanently linked to older articles.
9. Create More Outbound Links
An outbound link is an inbound link to your content from an external website. Outbound links are one of the most influencing signals for your Google rankings and increased blog traffic .
Getting outgoing links from reputable websites and blogs is very difficult. Not only for beginners, even experienced bloggers struggle with it.
Here are some tips for getting quality links to your website:
Reach out to influencers and reputable blogs in your industry, then tell them about specific content on your site that they might want to link to.

Write guest posts on blogs and other websites.

Interview influencers and bloggers on your blog.

They'll most likely want to let their users know who attended to check their interview, and you'll get an outgoing link.

The easiest way to get an outgoing link is to add a link to your website in all of your social media profiles.
10. Add photos, charts, and graphs to create visually appealing content
In Step 5, we mentioned that adding images and graphics to your articles makes them more readable.
Since the visuals are so important, we think it deserves its own place on this list. As humans, our brain prefers visual things.
We love colors and objects because the aesthetics trigger emotional responses in our brains.
This makes us more involved and immersed in our surroundings. People love looking at graphs because they make the information attractive and easy to consume.
Images in your blog posts grab the user's attention and help them focus not only on the visual element but also on the text around it.
If you are just starting out, it is important to know that you cannot use any image that you see on the Internet.
Images are protected by copyright and theft of copyrighted material can have severe consequences.
Ideally, you want to use your own photos, graphics, and images, but not all bloggers are graphic designers or photographers.
Fortunately, there are many great resources for finding royalty-free images, and there are also tools you can use to easily create your own graphics.
11. Add videos to your articles

Videos are the most successful form of content on the Internet.
Users spend more time on blog posts that contain videos than just text and images. Adding videos to your WordPress articles is very easy.
However, you should never upload videos to WordPress as it is not optimized for streaming videos.
A video hosted on your WordPress hosting server will consume a lot of resources.
So the best way to add videos to your site is to upload them to YouTube and then embed them in your blog posts.
This gives you more exposure because YouTube itself is the second largest search engine in the world and a popular social media platform.
There are many ways to easily create video content for your website. Here are some things you can start with :
You can create slideshows of how-to tutorials with voiceover instructions

You can also create screenshots

Record interviews with bloggers and other actors in your field

Become a vlogger by adding your videos captured in selfie mode
For video editing, if you're using a Mac, iMovie is fully capable of making basic video edits.
Windows users can use free video editing software like Lightworks or Shotcut for basic editing.
12. Use of User Generated Content

User-generated content is basically any content that is created on your site as a result of user activity.
This includes comments, testimonials, guest posts, user reviews, and more.
UGC helps you bring more blog traffic to your site because it gives users multiple opportunities to engage and engage.
Users are more likely to come back, engage and even buy from your website when they spend more time on it.
There are many different types of user generated content that you can add. You need to choose what works best for your blog and start from there.
For more ideas, stay tuned for more of our articles to grow your site.
13. Keep the website design clean and free of inconsistencies
There are a lot of great WordPress themes available in the market.
The problem is that many beginners like to use a theme with all the alarms and whistles.
Also, these themes are not always the perfect design for your website.
Poor website design prevents users from spending more time on your blog which reduces page views and traffic.
While a good design helps them discover more content, explore different sections and spend more time as well.
In addition, users often ask us how to choose the best theme? The answer is to always strive for simplicity in dealing with information.
The simple appearance and good and practical content gives a good first impression and provides the best user experience.
In the following article (part 2), we will explain the rest of the tips used to increase blog traffic and the number of visits.